Nature & Partage, bulk and packaged psyllium specialist.
Psyllium in bulk or already packed ? Nature & Partage offers all the possibilities and guarantees premium quality psyllium husk !
Nature & Partage is importing psyllium husk since 2007. Psyllium is a precious intestinal regulator. This little plant,  that comes from India where it grows naturally, has been known for centuries for its remarkable transit properties.
Our company was the first to import and distribute psyllium husk in organic stores in France. We started importing a few kilos to quickly multiply the quantities to import containers.  The team also increased.
 The best quality
We can explain the growth of the company by the quality  of our organic psyllium husk Ecocert certified.  We are importing our psyllium from the Indian province of Madhya Pradesh, in the heart of a fertile agricultural area far away from city centers.  Nature & Partage is one of the few importers to sterilize psyllium with dry steam in order to remove possible insects and other impurities.
The treatments, realized in Europe, comply with the standards of European legislation regarding ethylene oxide.   Furthermore, there is no bromide treatment.
Psyllium in bulk or packed 
You are looking for a supplier of quality blond psyllium in France ? Nature & Partage distributes its psyllium in bulk or already packed for more than 15 years, to ensure a regular supply to its partners.
Regarding psyllium in bulk, we can supply bags of  25kg of organic or conventional psyllium husk. We also have psyllium in powder. With a swelling index bigger than 40, we can ensure that all our batches are pure and not cut with rice flour.
We  have  what  you  need
For every delivery, we provide a full certificate of analysis with standard analyzes, the level of nicotine and ethylene oxide. A lot of partners already trust us : flour mills, laboratories, bakeries…
Regarding the level of purity, we have 95% and 99% psyllium to meet different needs and uses.
Psyllium packaged in eco-responsible packaging
The trusting relationship built for years with our supplier and partner in India affords to offer a complete range of packed psyllium from the 150g packet to the bag of 1kg. We also complete the range with single-dose stick, capsules and  fine powder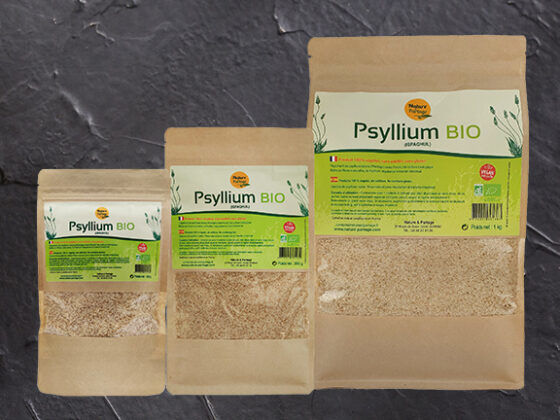 For the packaging, Nature & Partage has chosen an ethical approach. We now offer our   psylliums 150 g, 300 g and 1 kg in eco-responsible kraft bags ! Eco-designed, these packaging consume less material and are easier to recycle.  Since March 2021, our psyllium in capsule is also available in a 100% vegetable and compostable bottle.